I learned about @lenasveganliving weekly FRUITS & VEGGIES MONDAY last week and loved reading all the posts! I'm so excited to participate this week with one of my fall fruit and veggie favorites, especially since we went apple picking this weekend and I've got lots of apples to use up!!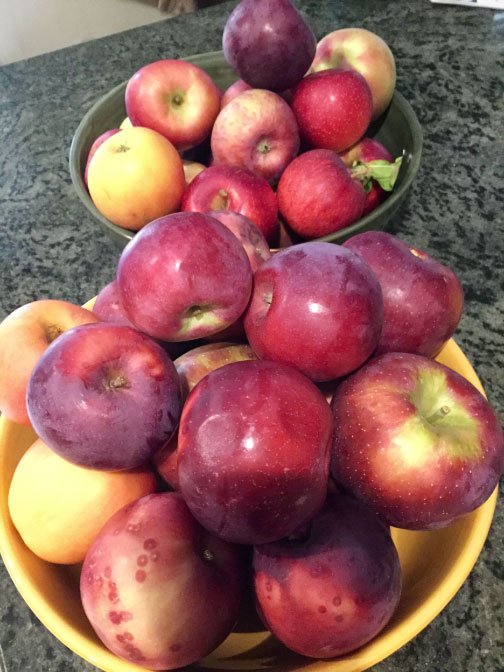 Ever since I was a little kid, I've loved oatmeal, especially during the colder months. There's something so comforting about it and fortunately it's good for you! This oatmeal packs an extra nutrition punch because it's boosted with apples (antioxidants, flavonoids and fiber) and chia seeds (omega-3 fatty acids, fiber). I added the Chai Protein powder because chai is the bomb and for the protein boost. And, there is NO added sugar in this recipe. This oatmeal is also #kidapproved. My two munchkins both gave it a big thumbs up.
Apple Chia Chai Baked Oatmeal
• 4 cups steel cut oats
• Raisins (about a cup, more if you like them)
• Cinnamon to taste—I use A LOT. At least a tablespoon.
• Pinch of sea salt
• Nutmeg (teaspoon)
• 4 cups of unsweetened almond milk
• 1 scoop of Chai Protein powder
• Chia egg
• ¼ cup of chia seeds
• 1 teaspoon, vanilla extract
• 4 apples, cored and diced (you can peel them if you prefer, but I like to leave the skin on for the extra nutrients)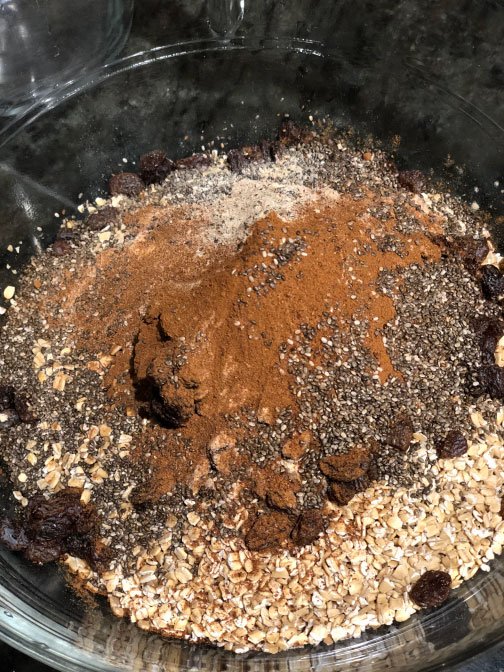 Directions
Preheat oven to 350 degrees.
Make your chia egg by combining 1 tablespoon chia seeds with 2 tablespoons of water. Let sit while you combine the dry ingredients.
Mix all the dry ingredients together (oats, salt, raisins, cinnamon, nutmeg, Chai Protein powder)
Mix the chia egg, milk, vanilla together and sprinkle a little extra cinnamon on (great for metabolism!).
Mix the wet ingredients with the dry.
Layer your apples on the bottom of a greased pan (I spray with coconut oil). Pour the combined oatmeal mix on top.
Bake for 40 minutes. Serve warm or save and serve cold the next day. It tastes delicious both ways. You can also make a big batch and freeze it to heat on a cold day.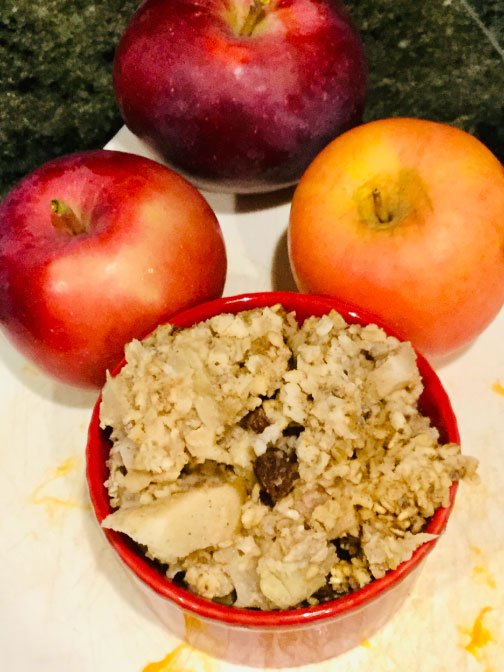 I hope you enjoy! Next week I plan to post a few of my favorite pumpkin recipes.
~Traci